KETV01, KETV02, KETV03, KETV04, KETV06, KETV08, KETV10, KETV12,
1 phone system
The SDK audio door entry kit is designed for simple one to one installation. That is one call button calling one telephone.
The equipment is functional and very competitively priced
---
Follow these links for useful additional information
---
Training Notes
These kits are ideal for a variety of installations because of the following features.
The panel is very shallow

It is ideal for surface mounting
The panel is hinged, making it very engineer friendly
The panel is protected from the rain and is suitable for fitting externally
This is NOT a Vandal Resistant panel, but it is robust and suitable for most applications



The phone is an attractive white unit

The phone cord is a very flexible and suitable in situations with repetitive use (ie reception phone)
The power supply (provided with the kit) is suitable for power for the system and standard 12V AC lock releases.



The connections are simple

Convertional 5 wire technology

---
Cable Requirements
Power is provided to the system from a DIN rail power supply. This is normally installed near the fuse box.
Only 5 wires are required between the telephone and the entrance panel for each telephone. 4 of these wires are common, the other is for the call tone.
For further information about various locking arrangements please see the wiring diagram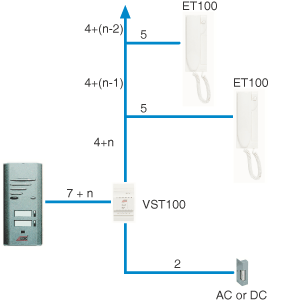 KETV01



3 button panel showing the hinge